If you've ever thought of adding Dubai to your travel bucket list, why not do it the right way and go all out. Indulge in the best comfort, convenience and style. There are top-class hotels in Dubai, considered to be of a luxury nature. Guests will be pampered and offered extra special amenities and services along with refined and delicious international cuisine.
Burj Al Arab
Whenever you look for information on Dubai whether it is travel, hotel stays or tourist spots, you wouldn't find one article where Burj Al Arab is not mentioned. This is the epitome of beauty, class and wonderment. The first glance is a knockout. The hotel reaches over 1,000 feet and has a unique design, unparalleled to any other structure. The hotel exterior and interior are nothing short of spectacular. You will be impressed the moment you step into the hotel. The suites are luxurious and palatial, the canopy beads spread all the way around and the staircases are lavish with marble and gold fitted to them.
Shangri-La Hotel
Shangri-La Hotel offers visitors first-class opulence, ensuring a state of elegance and comfort. The hotel setting is refined and pure. There are 302 guest rooms that come complete with sleek furniture, deep soaking tubs, rain showers and gleaming décor. Shang Palace is their signature restaurant that serves a combination of delicious cuisines from Morocco and Spain. There are spacious courtyards and loungers for guests to relax and unwind.
Al Qasr
Al Qasr also referred to as the Palace is a sophisticated and stylish hotel with highly decorated architecture. The hotel is a part of the Madinat Jumeirah resort that spreads across the Jumeirah beach. Visitors are offered 292 guest rooms that come complete with private patios and magnificent ocean views. There is also a swimming pool, spa and health club with fabulous water sports easily accessible on the beach.
The Palm Dubai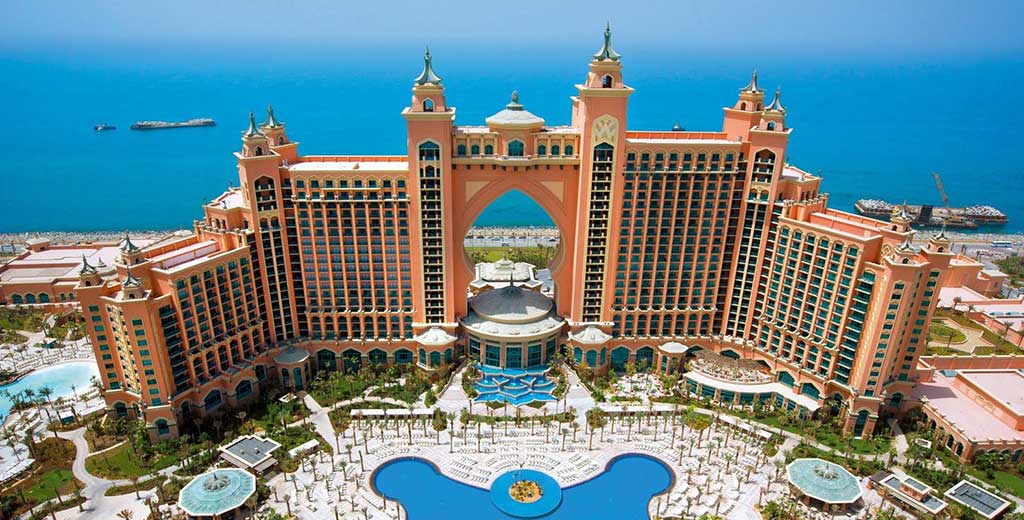 This hotel is called the 'one and only', and it is not hard to understand why. The Palm is a boutique hotel for visitors who want to get lost in the beauty and loveliness of nature. The hotel provides an unfiltered view of the Jumeirah Beach Residence waterfront and the Dubai Marina. The grandiose you feel when you enter the hotel is further accentuated with its lush greenery and scenic beauty. All rooms have private terraces and balconies and aesthetically pleasing rich dark interiors. Guests can enjoy fine dining at their French restaurant.
Jumeirah Beach Hotel
Last but not least, capping the Top 5 is the fabulous Jumeirah Beach Hotel in Dubai. It is a 5 star hotel located in close proximity to the Burj Al Arab and within walking distance of Madinat Jumeirah. It is a 26-storey hotel designed to complement Burj Al Arab. With breaking waves that seem to flow from the exterior of the hotel, Jumeirah Beach has a stylish and modern aesthetic. The restaurant offers culinary delights from North Indian dishes, to an English breakfast and continental cuisine.