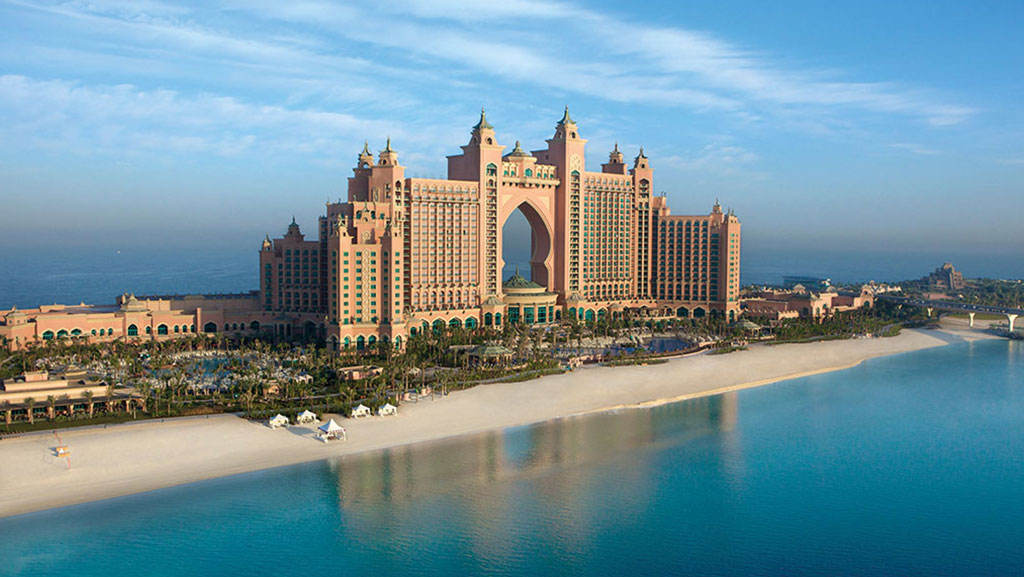 The Atlantis, the Palm Hotel has made a name for itself by being a top attraction for the wealthy, famous and the celebrities. It is a spectacular suite hotel situated on Palm Jumeirah. But, there will soon be an Atlantis 2, a sequel to this amazing hotel, with plans to open by early 2020.
The Resort & Residencies
The project is estimated to be $1.4 billion, and the last bit of touch up is being added to the resort. It will be referred to as The Royal Atlantis Resort & Residence, and will be made up of two towers. Guests can enjoy distinctive luxury, private pools and a celebrity chef. The mega project was launched in 2014, and is coming to its completion. The structure is ready, but work inside the hotel is continuing. The two towers will be designated to a resort and residencies respectively.
What the Resort & Residencies will Feature
A bridge will connect the two towers, and guests can indulge in pools, cabanas and lounges between these two spots. The resort is made up of 795 rooms and suites. There are 43 floors along with fine dining restaurants, bars and private clubs. The residencies, on the other hand, will house 2BR-5BR apartments, with each property priced approximately at $2 million. Residents will be provided with exclusive services such as a spa, fitness rooms and health clubs.
Oceanic Themes
The Royal Atlantis will feature unique water structures and oceanic themes in the lobby, including spectacular aquariums. The Atlantis 2 will complement the original Atlantis. It was originally an iconic landmark that was established in 2008. Visitors and residents will be privy to stunning views of the Dubai skyline.
Superior Facilities
The hotel will feature 90 swimming pools, rooftop infinity pool and distinguished restaurants. It will offer regal suites, luxury homes, private beaches and unmatched views. Up to 800 guests can stay at the Atlantis, with the goal to elevate their holiday experience. The resort and residencies are known for its iconic brand in the hospitality industry.
Quintessential Surroundings
The hotel rooms and serviced apartments have lush landscaped terraces which provide an outdoor space for guests and residents. This is designed to maximize the experience and increase privacy. Presidential Suites which can also be used as function rooms are located on the bridge level. The hotel rooms and serviced apartments can be operated independently because of the way they have been organized.
There is also the rooftop restaurant and striking pool desk at the bottom of the terrace, which is then connected by the bridge. You can witness panoramic views that are simply breathtaking. With the completion of the resort and residencies drawing near, there are high expectations of Atlantis 2 to make a huge impact in the hospitality sector, and not just in the UAE, but the world over as well.